By 2020, 43 million plus By 2020, 43 milliion plus renters, a continuing long-term upward swing that actually started in 1975. In fact, multifamily housing accounts for for approximately 15% of the housing stock in the U.S.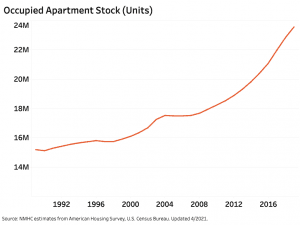 At the same time, there has been a downward trend in residential vacancy rates across the country. The vacancy rate
declined 39.6% since 2010 (when vacancy hit an all-time high) and currently, 6.4% of rental units in the U.S. are vacant. Not all vacancies are created equally, however. As the COVID-19 pandemic unfolded, we witnessed a noticeable shift in renter behavior as people migrated from highly populated urban centers to the suburbs in search of larger units and less densely populated multifamily communities.
This high demand for multifamily properties may also be related to the unaffordability of homeownership, especially for millennials. Nearly
say they cannot afford a house due to rising prices. This is backed by a study by the Federal Reserve Bank of St. Louis Center for Household Financial Stability, which found that millennials have almost 35% less wealth than earlier generations at the same ages.
Some of the best areas to invest in multifamily today are listed below..
Raleigh-Durham

Austin

Charlotte

Salt Lake City

Phoenix

Atlanta

Dallas-Fort Worth

Orlando

Nashville

Tampa-St. Petersburg

Boise

Washington D.C.

San Antonio

Boston

Seattle

Indianapolis

Denver

Palm Beach

Colorado Springs

Sacramento

Fort Lauderdale

Columbus

Jacksonville

Miami

San Jose
Consider flipping investment properties Flipping investment properties has become one of the most popular ways to start investing in real estate. Their is so much
Read More »